We all love a scented, relaxing bath. In this article, we're going to show you how to make rose petal bath salts. Rose bath salts could be a great way to enjoy an evening to yourself or a great gift idea! It is an ideal way to relax your mind and body. With nourishing bath salts to pamper your skin, the sweet scent of roses will calm and soothe your mind. Although we will show you a simple recipe, there are various ingredients you can choose from. For example, you could opt for Epsom, Himalayan or the Dead Sea salts, and different types of rose essential oils as well. First, We'll have a look at the various benefits of different salts and then get to the recipe for how to make rose petal bath salts.
Benefits of Different Bath Salts
You can choose the bath salts of your choice if you have a preference or decide based on the benefits we're about to mention. Feel free to mix different salts types so you can make your special rose petal bath salts just the way you like. Here are the main bath salts to consider:
Epsom Salts
Epsom salt is rich in magnesium. One of its main benefits is that it helps you relax and can be used as a sleep bath salt. In addition, as a response to magnesium, our bodies release serotonin which can help mental conditions like depression. That also helps our bodies destress and unwind. Nevertheless, some experts argue that stress relief may originate from the bath and warm water. Epsom salts also help with inflammation. If you have any muscle soreness or fatigue, this is a great option for you. It will also detox your body and help with cardiovascular health. Just add a little to the rose petal bath salt mix and enjoy all the benefits of Epsom salts.
Himalayan Salts
Himalayan salts have a calming effect on the body. This is due to the fact that Himalayan salts can form negative ions in the air. These salts also have magnesium, which helps relax and soothe your muscles. In addition, Himalayan salt has antibacterial properties which could potentially help with acne, psoriasis and eczema, but further research studies are needed to prove that.
Dead Sea Bath Salts
Dead Sea salts are great for treating dry skin disorders such as eczema and psoriasis, since they are rich in magnesium, calcium, sulfur and zinc. Because of their high mineral content, Dead sea salts detox and cleanse the skin. According to a research study, magnesium dead sea salts can get favourable results as they can improve skin hydration and decrease inflammation. If you soak in water with dead sea bath salts, it can improve your skin's barrier. Additionally, Dead sea salts help with inflammation caused by rheumatism and arthritis. 
Benefits of Rose Essential Oil
Aside from a beautiful scent, rose oil also has several benefits explained in detail with references.
1. Rose Oil Improves Mental Health
According to a study published in Heliyon Journal rose essential oil has antidepressant properties. It affects the serotonergic pathway which improves your mood. It also reduces stress and anxiety.
Moreover, rose oil has relaxing benefits through topical application on the skin. Another study showed that by applying rose oil to the skin of the participants, the common symptoms of anxiety decreased (decreased breathing rate, blood oxygen saturation and systolic blood pressure). The participants rated their emotional level as more calm and less alert.
2. Rose Oil has Antimicrobial activity
Rose oil has antibacterial and antifungal activity. According to a research study published in the Global Journal of Pharmacology, the essential oil extracted from roses showed broad-spectrum antibacterial activity against many microbes including staphylococcus aureus, Streptococcus pyogenes and Candida albicans.
3. Rose Oil Relieves Pain
Rose oil also helps decrease menstrual cramps. This was achieved by massaging the abdomen with rose oil in two subsequent cycles during the first day of period. The group who did massage with rose oil had less menstrual pain after the massage compared to the control groups.
In 2015 a study was conducted on postoperative children who either inhaled almond oil or rose oil. Patients who inhaled rose oil showed a decrease in their pain scores, indicating the benefits of rose oil aromatherapy in easing postoperative pain.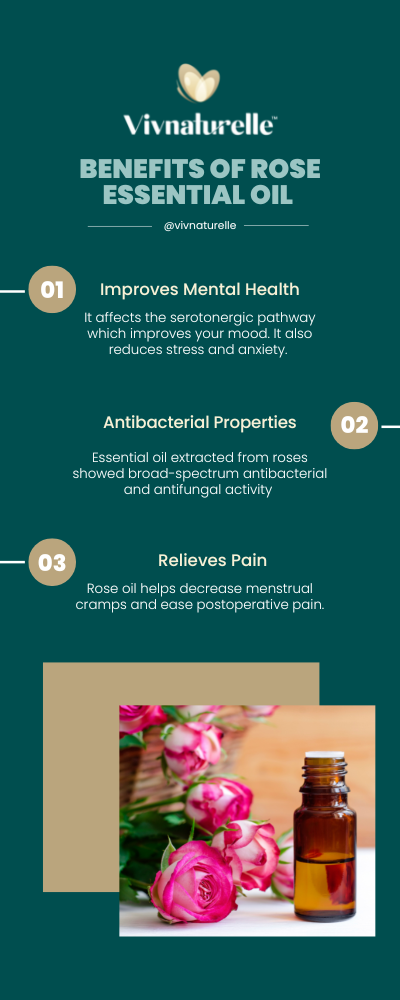 How to Make Rose Petal Bath Salts
Now let's get to the good part! Here's our recipe and tips for how to make rose petal bath salts. What you'll need:
Airtight jar
1 cup of Epsom Salts (Himalayan or Dead sea salts can be used)
Emulsifier (like polysorbate 80)
⅓ cup of dried rose petals
5ml of rose essential oil
An emulsifier is needed to make sure that the essential oil doesn't just float on top of the water, but rather mixes with the water.
Directions:
To start, add the rose essential oil and emulsifier to a bowl and mix well. Then, add the Epsom salts and mix together. Once the oil is well mixed with the salts, add the dried petals. Make sure you mix well to equally distribute them. Keep inside the airtight jar. That's it! Just add a handful to your bath and enjoy!
Final Thoughts
We hope you've found this article useful and will be giving this recipe a go! With all the benefits of bath salts and rose essential oils to your body and your mind, we are sure this will be a great addition to your relaxation routine. If you have any questions when it comes to how to make rose petal bath salts, let us know in the comments below!

You can read more on Countryhill Cottage, Soapqueen and WikiHow.