Hair care for greasy hair is important, especially if you have an oily complexion. Greasy hair is a common problem that many people have. An overproduction of sebum can cause it. Sebum is a natural oil that the body produces to keep the skin and hair moisturized. Usually when we keep on touching our hair through the day, our fingertips which produce sebum, can cause us even more greasy hair.
Also, it should be noted that an extra greasy scalp can drive to itching and seborrheic dermatitis. It can also contribute to feast for fungus that can later create dandruff.
Sometimes, a high-fat diet can cause greasy hair. There are many ways to care for greasy hair. You could try using an apple cider vinegar rinse after washing your hair as one of the solutions. This will help with the pH balance of your scalp. Of course, you don't nee to extract all of your hair oil, as it guards your hair and are considered important for a healthy scalp.
Here are some important hair care tips for greasy treatment:
1. Reduce Your Washing Frequency
Sometimes if you are washing your hair with a shampoo for greasy hair once a day, your hair is still greasy at the end of the day. Then, you might begin trying to reduce the frequency of your hair washing. When you over-wash your scalp, you strip it of its natural oils. This results in the scalp producing more oils to replenish what has been stripped off. If you have dry skin or an itchy scalp, you may find that slowly increasing your hair wash frequency may help balance your scalp's oil production.
2. Shampoo Your Hair Properly
If you wash your hair incorrectly, you can have an oily scalp which could damage your hair. It doesn't seem like rocket science, but it's true.
Wash your hair properly by gently massaging a small amount of shampoo for greasy hair into your roots and scalp. Avoid using your nails or over-scrubbing your hair. In addition to irritating your scalp, aggressive scrubbing will produce more oil. Also, you don't have to use the shamoo directly to the ends of your hair. But, make sure to rinse the shampoo thoroughly and let it flow through the ends. You can check out some amazing organic hair wash products.
After shampoo, you can also use scalp scrub or exfoliant which can reduce buildup. A product that includes ground texture as sugar, is a must and you can use it once or twice per week. Apply it to a wet scalp and massage the exfoliant into your scalp, with the tips of your fingers.
3. Carefully Condition Your Hair
Conditioning your hair can be done with a conditioner specifically designed to care for greasy hair. It's important to remember that hair conditioners can cause oils to build up faster and make your hair look oily. For best results, use a conditioner only on the ends of your hair, and then thoroughly rinse it out.
4. Go Natural
When you use a straightening iron and a blow dryer, you can achieve a smooth finish. These appliances can, however, make your hair look greasy much faster. Allow your hair to air-dry as much as possible after washing it with shampoo. This way, you can enjoy its natural texture. You will stretch out your washes and avoid heat damage. Discover some ways to enjoy natural hair products.
5. Use Only Products Formulated For Oily Hair
The development of hair care products that live up to the hype has taken a lot of thought and research. Try a shampoo for greasy hair if your regular shampoo is not doing the trick. You can use this to remove oil and leave your hair with no grease. For those who enjoy sweaty workouts, a mild shampoo for greasy hair might be better. It is less irritating and more suited for frequent use.
6. Ensure Brush Is Clean Before Use
A dirty brush has no place in freshly washed hair. You may not realize it, but they can fill your brush with styling products, oils, and general gunk. These buildups can cause your hair to become dirty immediately after washing. To clean your styling tools, use a bit of shampoo or gentle soap to remove the buildup. Also, clean out all the loose hairs after each brushing to keep your brush as clean as possible.
7. Deep Cleanse with Aloe Vera
You can use these greasy hair care tips during the summer and winter. Aloe is an excellent ingredient for hair and scalp masks because it removes excess oil, soothes the scalp, and helps to protect the hair. As a result, you will have soft, healthy hair.
8. Avoid Silicone-Based Products
Silicone-based products are not good for hair care for greasy hair because they coat the hair with a layer of silicone, which can make it look shiny and full but also make it feel dry and damaged. Some products, such as conditioners, shampoos, and creams, are formulated with silicone to smooth hair and add shine. Silicones don't just add more shine to the hair that makes it look greased but can also build up on it and make it appear oily and dirty. Common silicones are dimethicone, cyclomethicone and amodimethicone.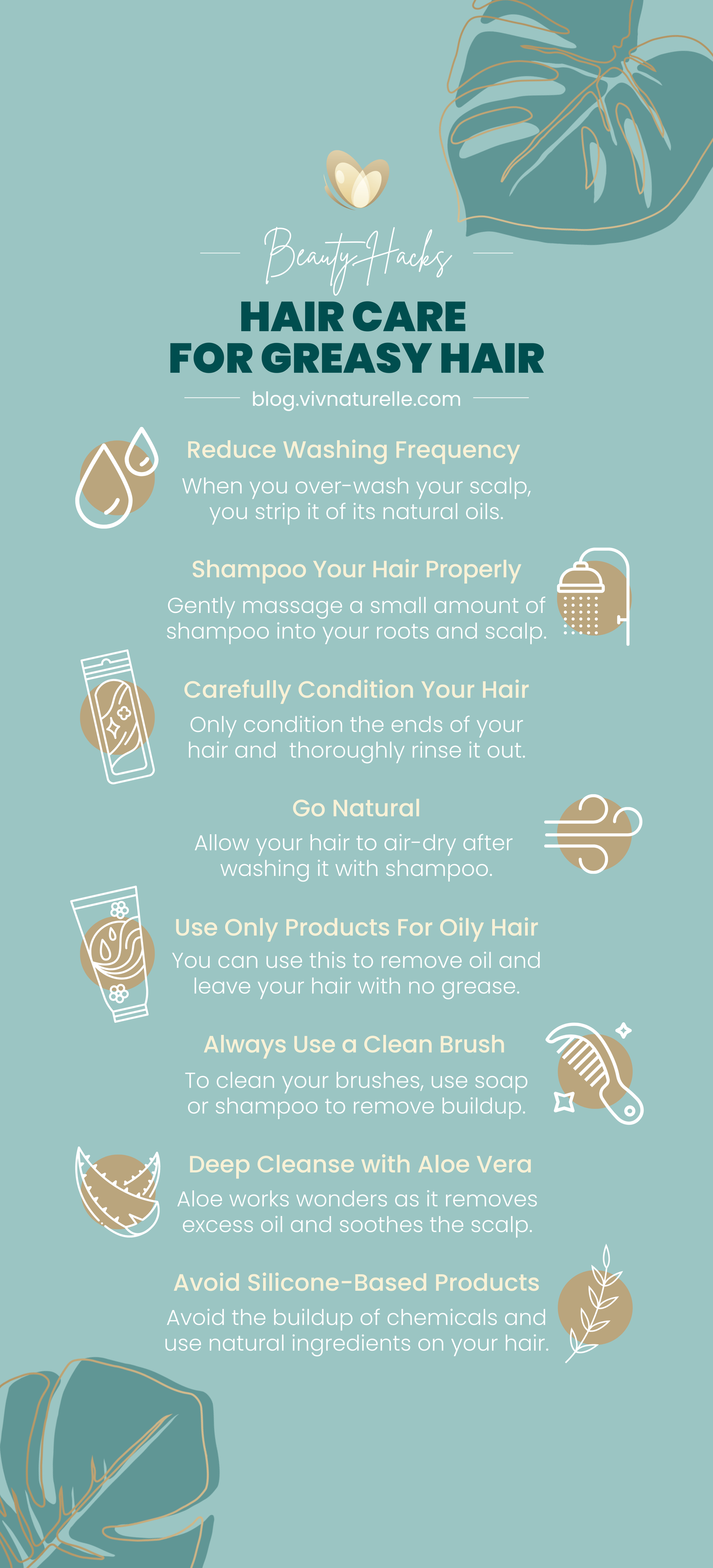 Even though greasy hair can be a burden sometimes, following any of our tips, you will see your hair change and your attitude will change as well!
The best tip for hair care is to go natural – avoid the buildup of chemicals on your scalp and nourish it with nature's best ingredients. There are multiple options of organic shampoo and conditioner you can check out on Vivnaturelle.
Finally, you shoud treat your scalp with sensitivity and you have to be gentle with it, in order not to overstimulate it and cause oil glands, which will create more oil.
You can read more about hair care here, the cosmopolitan and on Healthline.