Eczema lip balm can aid in treating eczema and soothes dry, chapped lips while protecting the skin around the mouth from harsh weather and environmental irritations. Eczema on the lips can make your skin red and itchy. This causes one or both of your lips and the surrounding skin to be inflamed and cracked. Let's have a look at different types of eczema and what the best lip balm for eczema lips is.
Eczema Overview
Eczema is a common skin condition in which the skin's barrier fails, causing itchy rashes, red patches, blisters, and broken skin. You can see eczema on your lips, but it's more likely on the body. Eczema on lips is more severe than normal chapped lips in the wintertime.
Types of Lip Eczema
If you have dry skin from head to toe, it may extend to your lips, in which case you're merely dealing with ordinary dry lips.
The outer corners of the mouth are the most common site of lip inflammation, which is caused by either a bacterial or fungal infection. Excessive saliva build-up often causes problems in these areas, such as when you lick your lips or braces.
Irritant Contact Cheilitis
This type of lip eczema is caused by skin irritation caused by an external trigger, most commonly the overuse of cosmetics or oral hygiene products.
Allergic Contact Cheilitis
An allergic reaction can appear as a result of cosmetic products, skin care products, medications, or even food that contact your lips and cause lip inflammation.
Natural Lip Balm for Eczema
To keep your lips well-hydrated or to treat chapped lips, choose a natural or organic lip balm. Besides moisturising your lips, the eczema lip balm will also be chemical-free. A natural eczema lip balm containing natural ingredients such as shea butter, rose oil, or other aromatic essential oils is very helpful. Unlike the hard waxy balms of the past, these natural lip balms are smooth formulas that hydrate and protect your lips. Although the latest trends such as natural makeup are gaining popularity, it's hard to tell the difference between truly natural lip balms and other moisturisers. Therefore, we list here some ideas that you can do at home to make your natural eczema lip balm.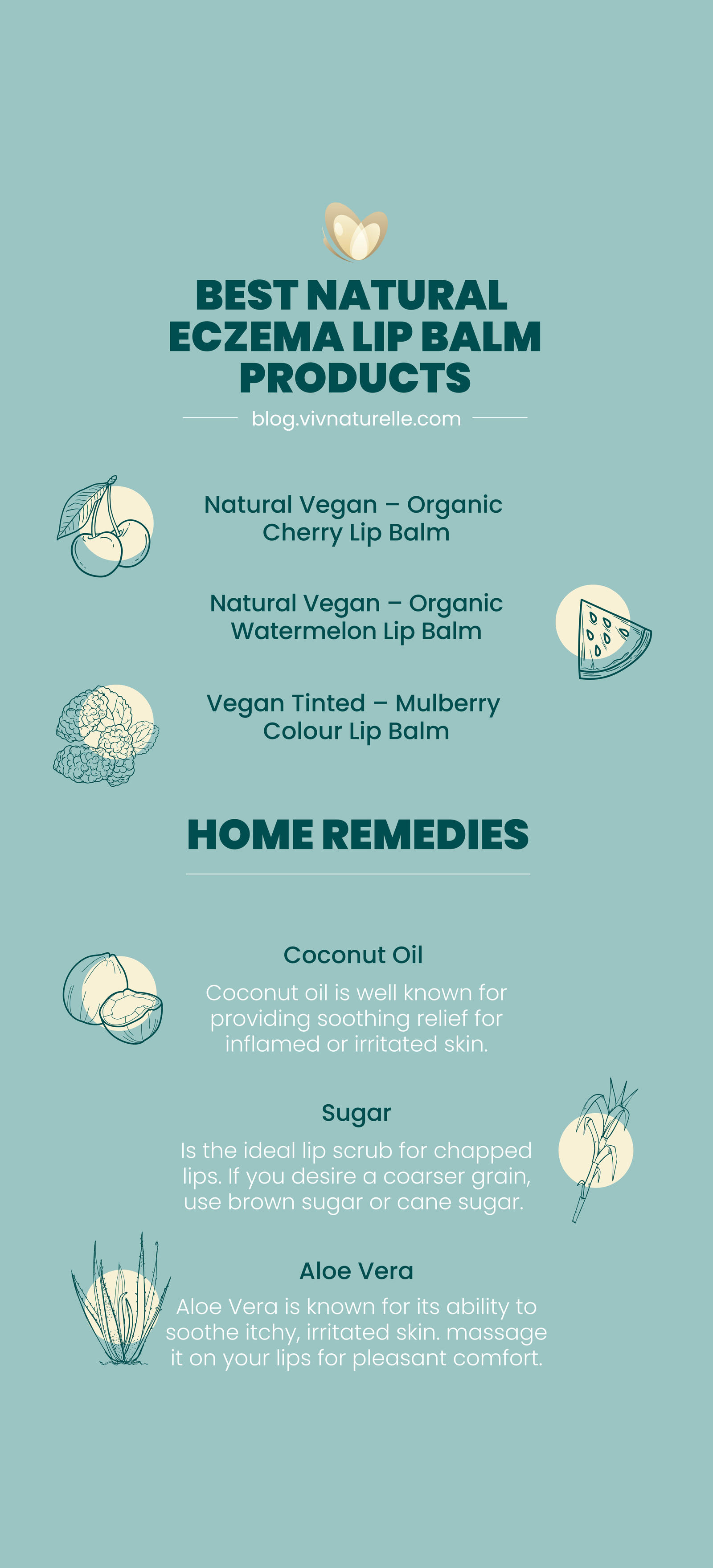 Some of the Best Natural Eczema Lip Balm Products
Benefits
It produces a matte finish that feels silky smooth and buttery to the touch
Infused with cherry kernel and coconut oils
Infused with Aloe Vera, so it is soothing and hydrating
A natural lip balm without artificial colours
Vitamin E-rich lip balm that combats free radicals and sun damage.
Alcohol-free Lip balm
Skin-soothing lip balm for sensitive skin
Benefits
Free of allergens, suitable for sensitive skin
Creates a matt finish with a smooth and buttery feel
Rich in coconut oil and watermelon seed oil
Infused with Aloe Vera – Calming and hydrating
No artificial colours
It contains Vitamin E, which fights free radicals and protects your skin.
Alcohol-free lip balm
Suitable for sensitive skin
Benefits
Matte, tinted colour
It contains coconut oil and watermelon for extra moisturisation
Soothing banana and aloe vera extracts
Buttery and extra soft application
For sensitive skin, allergen-free
Carmine, lanolin, and beeswax-free
Suitable for vegans and vegetarians
Alcohol-free lip balm
Home Remedies for Lip Eczema
1. Coconut Oil
Coconut oil, used in a range of natural treatments, is well known for providing soothing relief for inflamed or irritated skin. It's anti-inflammatory and antibacterial, just like calendula. Use virgin, cold-pressed coconut oil for best results. You can learn more about coconut oil here.
2. Sugar
It's the ideal lip scrub for chapped lips. If you desire a coarser grain, you can use brown sugar or cane sugar mixed with a moisturising oil for easy application.
3. Aloe Vera
Aloe Vera is well-known for its ability to soothe itchy, irritated skin. If you're going to use aloe vera, avoid gels because they often contain alcohol and other drying substances that aren't good for your skin. Simply break off a piece of the plant and massage it straight on your lips for pleasant comfort.
Final Thoughts
Lastly, it could have been eczema if you've ever experienced a case of extremely dry lips that wouldn't go away. Fortunately, it's a relatively simple condition to treat at home using natural moisturising and non-irritating ingredients. Natural lip balm is a great addition to any beauty regimen to soften and condition your lips, while soothing inflammation by providing a plethora of body-friendly, moisturising, and refreshing substances. We hope this article has helped you decide what the best eczema lip balm is.
You can read more on Web MD, Glamour Magazine and this article.