Despite the abundance of good skin products, finding a chemical-free face mask can be difficult. Skin discolouration is caused by many factors, including stress, pollution, and food. However, the harsh sun and the fast-paced stressful lifestyle increase skin ageing. To get fairer and smoother skin, many of us turn to lightening creams and lotions. Unfortunately, however, chemical-containing products do not endure long and, overall, cause more harm than good. Face masks are necessary for your skincare routine to achieve healthy and radiant skin. Face masks come in various shapes and sizes, each designed to address a specific skincare condition. If you have sensitive skin, always choose natural, chemical-free face masks.
Listed below are some chemical-free homemade face masks that will make your skin healthier and look younger.
1. Sandalwood Face Mask
Sandalwood is known for its wonderful effects on the skin. Sandalwood's elements can help lighten your skin by reducing melanin production. Sandalwood is also useful in removing scars and marks from the face. You can use rose water or plain water with sandalwood powder. Spread the paste evenly over your face and neck. Then, rinse with plain water to remove. Dark spots will fade away with this popular home remedy in a few weeks, leaving your skin looking radiant.
2. Rice Flour and Milk Face Mask
Rice and milk both work wonders in improving skin radiance. This face mask has high quantities of PABA and allantoin, which help treat sunburns and function as a sunscreen. Instead of going to the salon, milk can give you a quick clean-up. Make a fine powder out of some raw rice. To make a paste, combine it with milk. Apply to your face as a mask and leave on for 20 minutes. Rinse well and repeat three times a week. This chemical-free face mask will act as a natural skin-lightening alternative.
3. Yoghurt Face Mask
This wonderful dairy product has a variety of aesthetic skin benefits. It has lactic acid and probiotic bacteria, which help brighten the skin and give it a beautiful glow. To make a paste, combine two tablespoons of yoghurt with two tablespoons of gram flour or rice powder. Apply a face mask to the entire face for at least 15 minutes. To achieve a healthy and beautiful complexion, gently rinse with cold water.
4. Orange Face Mask
Orange is another commonly used skin care product that acts as a cleanser and enhances skin texture. Fruits that have vitamin C are effective for de-pigmenting the skin and are used widely in chemical-free face masks. To make an orange face mask, squeeze half an orange into a bowl. You can add honey or clay powder to the bowl. Apply it to the face and neck. Let it dry for 15-20 minutes and wash it off. This is one of the easiest and most effective home remedies for dealing with skin tanning and pigmentation.
5. Lemon and Honey Face Mask
The smell of honey and lemon is full of incredible properties as an effective skin remedy, so you can imagine how well they can pamper your skin. Honey provides skin-protecting characteristics that keep your skin clean and free of blemishes besides moisturising it. Lemon includes ascorbic acid, which can combat the pigments that cause skin discolouration. You can combine honey and lemon juice to use them as a face mask. Allow for 20 minutes of application time before washing off with warm water. After a few weeks of using this remedy which is one of the best chemical-free face masks regularly, you will see a noticeable difference in your skin colour and texture. You can add drops of hyaluronic acid in lemon and honey paste to make a hyaluronic acid face mask.
6. Tomato Juice Face Mask
Removing excess dirt and oil from the skin helps brighten the skin. With the use of some natural ingredients, sun-induced pigmentation can be reversed and aid in the removal of deep-seated blemishes and pollutants from the skin. Tomatoes contain lycopene, which aids in the removal of the discolouration. To make a face mask, extract some tomato juice and combine it with clay powder. Apply the face mask, leave for approximately 20 minutes, and then wash the mask. Regular use of this chemical-free face mask will aid in smoothing and lightening the skin.
7. Potato Face Mask
Aside from being delicious, a potato is an effective and widely used whitening agent. Antioxidant elements in this miracle vegetable brighten the skin and give it a healthy glow. Combine grated potato and raw milk and apply to your face with a cotton ball. Allow it to sit for about 20 minutes, then wash your face.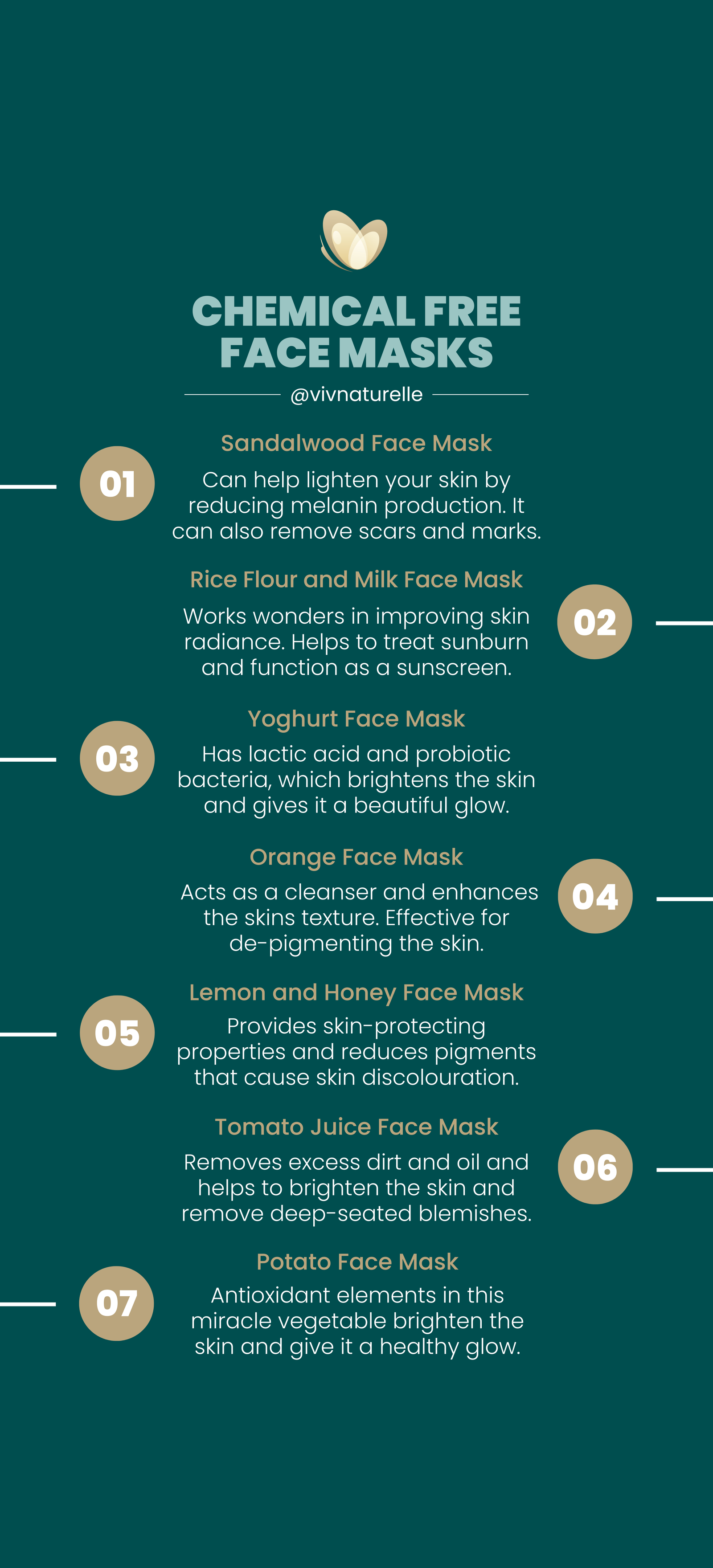 These natural face mask recipes are eco-friendly and great to get glowing skin and lighten your face without worrying about chemicals' harmful side effects.
You can read more on Style Craze, The Good Trade and Simply Quinoa.