Lip dermatitis is also known as lip eczema. It's important to know the best lip balm for dermatitis to relieve the condition. The main symptoms are dryness, redness and scaling of the lips. It can be painful and frustrating to deal with this condition. There are also a few different types of lip dermatitis, certain ingredients to avoid in lip care and we'll also give you a few product recommendations.
Can You Get Dermatitis on Your Lips?
If you're wondering if the persistent dryness and redness on your lips is dermatitis, chances are it is. When your skin is itchy and dry and gets worse if you lick your lips, it's most likely dermatitis. If you have the symptoms but are still unsure, we'd recommend seeing a dermatologist for a diagnosis.
What Causes Lip Dermatitis?
In a lot of cases, lip dermatitis is caused by genetics. However, sometimes it can arise due to irritation by synthetic ingredients in lip products. That's one of many reasons to switch to eco-friendly natural products for your lips.
Other reasons that cause lip dryness and lip dermatitis are:
Lip licking, sucking or biting.
Mouth breathing
Harsh weather
Medications (retinoids, salicylic acid)
Mechanical irritation
Poor lip care routine.
Saliva is a strong irritant and behaviours such as lip licking should be stopped first to heal lip dermatitis.
If the dryness is associated with redness of lips or around the corners, lip dermatitis could arise from a systematic cause such as nutritional deficiencies especially B vitamins, diabetes or IBS.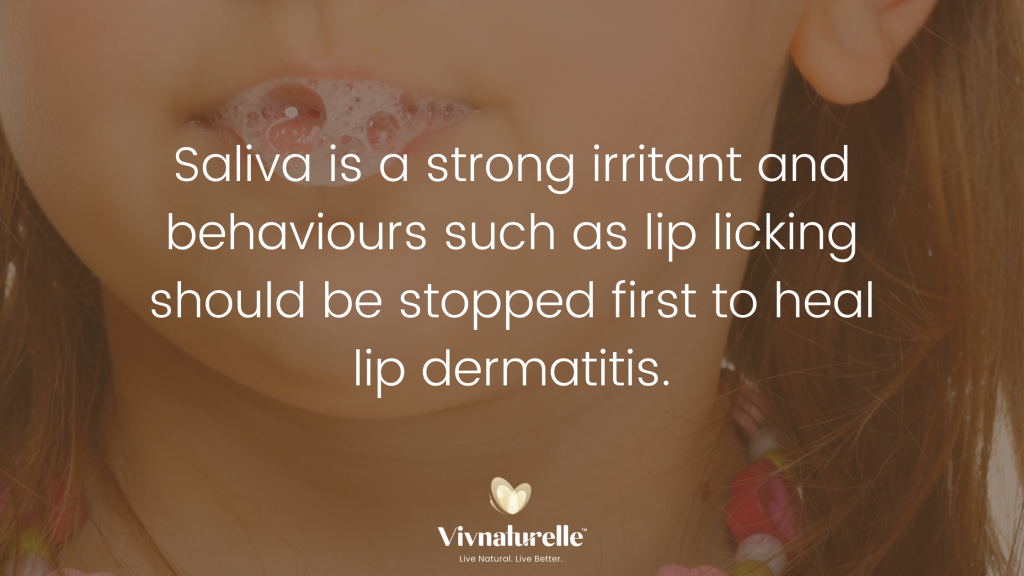 Is Lip Dermatitis Curable?
According to the National Eczema Association, there is no cure. However, there are various products you can use to relieve the symptoms! Although the condition itself won't go away, you can manage how it affects you and reduce its symptoms to a minimum. The goal is to make sure it does not affect your quality of life.
How Does It Spread?
Eczema is not considered infectious, so it cannot spread from one person to another, but it can spread to the body depending on the type of eczema. Nevertheless, if you notice dermatitis spreading there is a possibility that it has developed in these parts.
How Long Does It Take To Heal?
There are many causes that can impact the healing process of lip eczema such as severity and the treatment someone follows. As we already mentioned even though there is no cure, a person can control it by stopping specific products or consult a dermatologist if it doesn't seem to go away easily.
How Do You Treat Dermatitis on Lips?
There are many topical, natural treatments you can use on your lips if you have dermatitis. Ointments, creams and lotions should be your go-to as the goal is to seal-in moisture that your skin lacks. Here are a few suggestions:
Coconut Oil
Shea Butter
Cocoa butter
According to ADD, shea and cocoa butter are natural fat that help holding moisture in to heal chapped lips. For best results, apply at least twice a day for a few weeks. It is important to note that there are also ingredients you should avoid when trying to improve your lip eczema. Here is a list of irritants that you need to avoid:
Beeswax and propolis
Fragrances and flavorants
Eucalyptus
Dyes
Preservatives
Acrylates (in nail polishes, acrylics)
Nickel/ cobalt (in jewellery, instrument mouthpieces)
Menthol (in oral hygiene products)
Corticosteroids
Other chemicals and irritants
According to a study published in the International Journal of Women's Dermatology, protective measures should include application of a bland lip balm with UV protection, hydration and protection from extreme weather conditions.
Best Lip Balm for Perioral Dermatitis
Perioral dermatitis is a red rash around the mouth and the skin. It can be dry and flaky with bloated and inflamed bumps which are called papules that may look like acne. 
As with eczema, the best lip balm for perioral dermatitis is from natural sources that contain moisturising ingredients. These could be:
Aloe Vera
Coconut Oil
Shea Butter
Almond Oil
Coconut Butter
If you find an all-natural lip balm that has these ingredients and no synthetic fragrances and additives – great! We recommend a natural watermelon lip balm, infused with shea butter, aloe vera and coconut oil!
Best Lip Balm for Contact Dermatitis
This type of dermatitis appears as an allergic reaction caused by products used on lips or around them. In this case, contact dermatitis can spread if the cause of irritation touches other body parts. If you have this type of eczema, it is vital that you pay extra attention to the ingredients of the products you apply to your skin. As with other types of dermatitis, focus on moisturising ingredients such as shea butter and coconut oil and avoid dyes, flavours and anything that could be harsh to the skin.
Final Thoughts
Although you may not be able to make lip dermatitis go away forever, you can treat it in a way that minimises symptoms and discomfort. Avoid irritants and look for natural ingredients, apply them at least twice a day to start the healing process. We hope this article helped you discover more about the best lip balm for dermatitis. If you try any of these ingredients, let us know in the comments below!
You can read more on Glamour Magazine, Medical News Today and Byrdie.